David Baltuch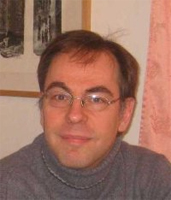 Contacto:
http://users.skynet.be/BALTUCH/
d.baltuch@skynet.be
David Baltuch
11 Avenue de Monte Carlo
1190 Bruxelles
Belgique
+32 (0)2 346 60 13
Biografía:
David Baltuch was born in Rumania in 1959. He studied at the Brussels Conservatoire piano, chamber music, harmony, counterpoint, fugue, orchestration, and orchestral conducting, as well as orchestral conducting at the Ecole Normale Alfred Cortot in Paris.
Additionally he attended seminars held by the Association of British Choir Directors in London where he earned the Intermediate Certificate for Choral Conducting.
Finally, David Baltuch took conducting summer courses with Benjamin Zander, Dominique Rouits, and Bernard Tétu.
His artistic activities include choral and orchestral conducting, as well as piano playing and composition.
Paralleling his artistic activities, David Baltuch is engaged in an academic PhD program at the Birmingham City University, studying and theorizing the conducting process.
David Baltuch realized several CDs as a pianist and as a conductor, and directs the Music Academy in Farciennes (Belgium).